Queens Car Accident Lawyer
It is very important to have a strong Queens car accident lawyer who will relentlessly fight for you. A car accident can happen in a split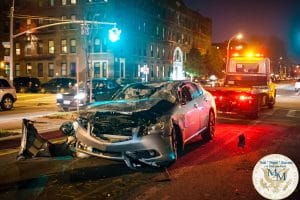 second, often when you are least expecting it. In that split-second, you can suffer serious, long-lasting, even life-altering injuries. Unfortunately, people are seriously injured in car accidents every day, if you have been involved in a car accident, you need a strong car accident lawyer who will fight for you. Don't let the insurance companies trick you, or other accident victims into settling for a fraction of what you deserve. Get a car accident attorney today.
The Queens Car Accident Lawyers at MM Law are here to help, we are seasoned personal injury lawyers who tirelessly fight for you. At MM Law, we are serious lawyers who seriously represent you for serious money. Our car accident lawyers regularly go toe to toe with the insurance companies, getting our clients the monetary compensation they deserve.
It doesn't matter what type of car accident you are involved in, we fight for you. Some common queens car accidents are:
Head-on Collision
Accidents caused by Road Rage
High-Speed Collisions
Texting while driving
Drunk Driving
Side-Impact or T-Bone Accidents
Rear-Ended
Side Swiped
Falling Asleep at the weel
Rollovers
Hit & Run
and more.
The MM Law Firm Will Get You The Maximum Compensation For Your Car Accident Injuries
The Queens car accident lawyers at Michael Manoussos & Co PLLC are seasoned, personal injury lawyers ready to fight for you, we won't rest until you receive the maximum compensation for your car accident claim. MM Law proudly serves New York City, Queens, Brooklyn, Bronx, and Long Island.
Regardless of the severity of your accident, even if you did not suffer serious injuries we are here to help. You can count on the personal injury attorneys at MM Law, we treat you like a person, not a case number, and will get what you deserve.

Did you know that all car accidents are governed by no-fault laws?
Whether you were the driver, passenger or pedestrian involved in a car accident no-fault applies. No-fault is the insurance of the car that you were either driving or were a passenger in, no-fault insurance will cover all of your hospital and medical expenses, even if you do not have health insurance.
What are you supposed to do when you get into an auto accident?
In the event of an auto accident, there are several steps you need to take to ensure that you have sufficient documentation for your claim. Ensure that you take plenty of pictures of all vehicles involved, as well as the scene of the accident, it is also a good idea to jot down how the car accident occurred. Additionally, you should file a police report at the scene of the accident and provide the police officer with a detailed description of the event.
After a car accident in Queens, NY, you should also get a copy of any and all medical records relating to the incident. Always see a medical professional immediately after a car accident, and ensure that you get documentation of the injuries you suffered.
When Should I contact a Lawyer After a Car Accident?
The steps you take shortly after a car accident are critical. The sooner you contact a Queens car accident lawyer, the better. Your accident attorney will walk you through the necessary steps to take following your accident. Your car accident attorneys will advise you on the proper steps to take after your accident, you can call the MM Law Firm for a free consultation.
What are the benefits of hiring a car accident lawyer?
When you or a loved one are involved in a car accident, you have enough to worry about. The added stress of a car accident insurance claim is the last thing you need to deal with. Often, insurance companies will take advantage of this, and attempt to settle the car accident claim for pennies on the dollar. Hiring the car accident lawyers at the MM Law firm will ensure that you get the maximum compensation for your car accident case.
Your car accident lawyer will deal with your insurance claim, and will not allow the insurance companies to take advantage of you. The MM Law Firm ensures that you get the maximum compensation for your car accident injuries.
How to prove injuries after a car crash?

The best thing to do is to speak with your attorney, a car accident lawyer will advise you on the proper steps to take to properly document your injuries, proper documentation of your injuries and the car accident will have a significant impact on the outcome of your car accident case.
In general, the more documentation you have the better. Make sure to get a copy of medical records from any doctor you speak to, as well as take pictures of your injuries resulting from the car crash.
Should I give the insurance company a statement after an accident?
Never give the insurance companies a statement without talking to your lawyer first. The statements you give an insurance company can be used against you in your claim for the accident, reducing the compensation for your injuries and damages.
If an insurance company asks you to give a statement, simply tell them that you need to speak with your attorney first and call MM Law immediately, Don't fall victim to the insurance companies.
Should I settle a car accident claim without a lawyer?
No, settling a car accident claim without legal representation often results in you getting a poor settlement from the insurance companies, their job is to minimize how much they pay you for your car accident injuries. Never accept an insurance settlement without speaking to a lawyer.
MM Law Is Ready to Represent You After A Car Accident
MM Law is known for being serious lawyers for serious money. Call today to get a free consultation with a personal injury lawyer. We have multiple office locations for your convenience, our injury attorneys can meet you at our Queens, Manhattan, Brooklyn or Long Island offices. Get what you deserve, get a strong injury attorney on your side.
Email Us For Your Free Case Evaluation