New York Truck Accidents Lawyer
Approximately 3,500 truck accidents happen every year in our nation, according to the U.S. Department of Transportation.
Truck accidents can be particularly catastrophic and devastating to a victim and their family. There are several different types and causes of truck accidents,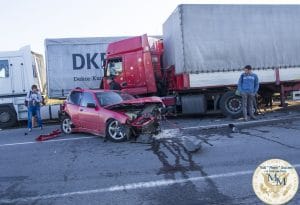 such as jack-knifing and turning collisions. These types of accidents can cause serious emotional, physical, and/or financial damages and losses. Truck accidents can specifically lead to severe back and brain injuries, or even death. Such accidents can potentially be worsened depending on the type of cargo the truck is carrying, which may range from flammable and hazardous materials to heavy machinery.  Tractor-trailers and trucks are also governed by the Motor Carrier laws and regulations. The Federal Motor Carrier Safety Administration and the National Highway Traffic Safety Administration promulgate regulations, conduct research and maintain data bases.
According to the National Highway Traffic Safety Administration (NHTSA), in 2015:
11.2 million large trucks were registered in the United States
An estimated 433,000 police-reported traffic crashes occurred involving large trucks
4,067 people were killed in crashes involving large trucks
Large trucks accounted for eight percent of all vehicles involved in fatal accidents
An estimated 116,000 people sustained injuries in crashes involving large trucks
Of the fatalities that occurred in large truck crashes in 2015, 84 percent were occupants of other vehicles or non-occupants, such as pedestrians or bicyclists
About one out of every four fatal crashes involving a large truck occurs on an interstate highway.
If you or a loved one have been involved in a truck accident, you may be entitled to significant compensation for injuries, damages, and/or losses that occurred as a result of the accident. Our qualified and experienced attorneys can help you get what you deserve on your road to recovery.
Common Causes
Fatigue Causes

Truck drivers are generally over-worked and under-rested. Adults, on average, require about 7-8 hours of sleep per night in order to function properly. Not getting enough rest could lead to impaired brain activity, cognitive dysfunction, hallucinations, and a multitude of other issues that directly affect one's driving abilities. Unfortunately, truck accident statistics demonstrate that company demands are more important than truck drivers getting enough rest or the safety of them or those around them.
Brake Time

Large trucks typically have a gross weight of over 10,000 pounds. According to the laws of physics, the larger and heavier a truck is, the longer it takes for it to stop. This is particularly problematic when trucks are put in a position where they have to stop quickly, which often leads to rear-end collisions. Due to the sheer mass of trucks, rear-end collisions from trucks often lead to more devastating accidents than read-end collisions with cars.

Poor Turning

Large trucks require a lot of room to turn, more than that of a sedan or SUV. Therefore, trucks commonly take up more than one lane of traffic to turn, specifically to make right turns. Such turning difficulties may cause truck accidents.

Jack-Knife

Jack-knife truck accidents are one of the most devastating types of accidents. A jack-knife truck accident is when a truck with two separate parts (a cab and a trailer) swivel where they are linked, thus forming a 90 degree angle where the momentum of the truck pushes forward by either skidding or rolling. When this happens, there is no place for other cars to go and the results is usually a multi-car pile up, often resulting in fatalities.

Unsecured Loads

If the cargo on a truck is not secure, there is a possibility that it can fall off the truck, thus creating an obstacle course on the roadway and dangerous driving conditions for other vehicles. Unsecured cargo can also move within the truck, thus resulting in a loss of control of the truck when it turns or changes lanes.

Poor Maintenance

Trucking companies at times skimp on maintenance and or repairs.  Trucking companies are business enterprises with a focus on the bottom-line; hence, maintenance and repairs can at times go unattended.  A poorly maintained tractor trailer or truck can cause serious malfunctions that lead to accidents.  For example, missing mirrors, worn brakes or bald tires can result in devastating accidents.

Wheel Blowouts

Wheel blowouts on a truck are considerably more dangerous than wheel blowouts on a typical 4-wheel vehicle, as it can result in an immediate loss of control of the truck. This can cause flips, roll-overs, or even multi-car pile ups.

Obstructed Views

Obstructed views, particularly from delivery trucks, limits the vision of oncoming traffic and pedestrians in the area. Whether these trucks are driving or parked on the side of the road, truck accidents from obstructed views can create dangerous driving conditions and obstacle courses, which may result in serious injuries or death.
THERE ARE A VARIETY OF TRUCK TYPES:
Automobile Transport
Beverage Truck
Concrete Mixer
Dump Truck (including belly or bottom dump)
Grain Bodies (including low-side grain and hoppers, etc.)
Garbage Truck
Livestock Truck (including livestock drop frame)
Oil Field Truck – service equipment permanently mounted on vehicle
Pole, Logging, Pulpwood, or Pipe Truck
Service Truck or "craftsman's vehicle" – body equipped for mobile repair and service
Dry Bulk Tank Truck
Liquid or Gas Tank Truck
Utility Truck – used in public utility operations (telephone line truck, etc.), body equipped for
major repair (may have aerial lift, derrick, etc.)
Winch or Crane Truck – lifting equipment (roll on/roll off) permanently mounted on vehicle
Wrecker – for motor vehicle towing or lifting
Trucks and Tractor-trailers possess enormous momentum, and as such crashes are devastating.  The weight and speed of a truck is known as its momentum.  Tractor-trailers are usually known as 18-Wheelers.  The tractor hauls a trailer that is usually 48 or 53 feet, with a combined 6 axles.  The maximum gross vehicle weight (GVW) for a U.S. semi truck and full trailer is 80,000 pounds (or 40 tons!) spread over 18 conventional wheels.
The premier attorneys at Michael Manoussos & Co PLLC represent victims of tractor-trailer and truck accidents throughout New York State and the New York-Metro area.  Whether you were injured in a tractor-trailer or truck accident on the New York State Thruway, Long Island Expressway, Turnpikes, the Interstate Highways (I-95, I-80, I-81, I-84, I-78, I-86, I-87, I-88, I-90, etc.) in New York (downstate or upstate), or in transit to and from New Jersey, Pennsylvania, Connecticut, etc., please protect and preserve your rights and call Michael Manoussos & Co PLLC for high-caliber and aggressive representation.
Email Us For Your Free Case Evaluation