Queens Personal Injury Lawyer
The MM Law Firm is home to some of the best Queens Personal Injury Lawyers. Queens Personal Injury is injury to the person, due to someone else's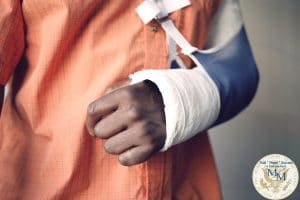 negligence (carelessness). It's also referred to as bodily injury (by insurance policies and companies). Personal injuries consist of a variety of extensive injuries. Brief illustrative injuries are: broken bones (know as fractures); spinal disc injuries (herniations, bulges, pinched nerves, sciatica); knee meniscus and ligament tears; shoulder rotator cuff tears; elbow dislocation; loss of limb/body organ; limitation of body system/function; soft-tissue sprains and strains; wrist carpal tunnel syndrome; psychological (and emotional) trauma; head and brain injuries; lacerations and scarring; disfigurement; wrongful death. Many injuries require surgery, rehabilitation and various modalities of physical therapy.
The personal injury victim is compensated for his/her pain and suffering and loss of enjoyment of life, in addition to special damages such as loss of earnings, out-of-pocket expenses and uncovered medical expenses. As a society, the law recognizes the sacred value of a full life and the right to enjoy one's station in life without pain and suffering. Retaining the right Queens personal injury lawyer is essential to receiving the maximum monetary compensation for your case.
A personal injury case is a civil claim or action, and the wrongdoer, the party responsible for causing the accident, is faulted with being negligent or careless by a preponderance of the evidence, which basically means more than fifty-percent at fault. In New York, the accident victim, the claimant or plaintiff can still recover even if his/her conduct contributed to the happening of the accident. That's known as comparative negligence. So, for example, say the wrongdoer, the defendant, is sixty-percent at fault and the plaintiff forty-percent at fault. The money award would get apportioned accordingly. So, in this example, an award of one-hundred thousand dollars would get apportioned so the plaintiff receives sixty-thousand dollars. Your Queens Personal Injury Lawyer at the MM Law Firm will fight for you, getting you the maximum compensation for your personal injury case.
Personal injuries arise in a variety of contexts. There are many different types of accidents. Auto accidents and trip/slip fall accidents are common mishaps. Any accident that arises and gives injury to a person due to another's negligence can constitute a personal injury claim.
Insurance provides a financial mechanism by which accident victims are compensated. Insurance companies are the real party in interest in personal injury claims, though they are not named in the case, since they are responsible for tendering the compensation. Consumers purchase insurance for protection; it's risk/loss/compensation allocation. Be it life insurance, health insurance, homeowners insurance, business insurance, professional insurance, auto insurance, etc., insurance plays a valuable role in our society as a financially responsible party in risk-benefit allocation event. Insurance companies, which undoubtedly possess enormous resources and power, are not Federally regulated but only State regulated.
Email Us For Your Free Case Evaluation