Should I Settle with the Insurance Company Without A Lawyer?
If you have a personal injury claim (or a property damage claim), there is no way in the world you should even think about settling with the insurance company without having a lawyer or at the very least consulting with a qualified personal injury lawyer.
The fundamental premise is this: the interests of the insurance company are diabolically opposed to yours.  Insurance companies are in the business of making money.  This entails paying out on claims as little as possible (if not disclaiming and denying them).  Insurance companies are under no legal or ethical obligation to advocate for your interests or for that matter to give you the compensation you deserve.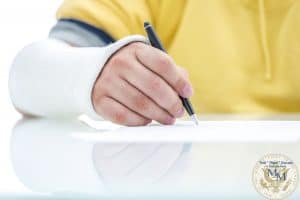 So, insurance companies will employ sly tactics to get you to settle your claim for the amount of compensation they desire.  The coy tactics to convince you vary from "why do you need a lawyer", "a lawyer will drag this out in court, "lawyers take a fee", etc.  The fact and truth of the matter is that without a lawyer you will settle your claim for multiples less – without even knowing it.
A car accident victim, for illustration, sustained a femur fracture requiring an open reduction and internal fixation.  The insurance company quickly sought him out an offered him $100,000.  Wow, thought the accident victim.  The insurance adjuster had a check and a general release ready.  The general release settles the claim forever and releases the tortfeasor and his insurance company forever.  But, the injured accident victim insisted on talking to a lawyer first.  He consulted with and retained a personal injury lawyer.  The personal injury lawyer advocated his rights and secured a settlement of 1.1 million dollars.  That's the difference!
Be aware that insurance companies are not prohibited from contacting you if you do not have legal representation.  Once an insurance company however is notified that the accident victim is represented by counsel, it can no longer contact you, the injured accident victim; it's prohibited.  Some insurance companies therefore rush to contact the accident victim immediately after an accident in their diabolical attempt to procure a cheap settlement.
Never sign anything, never give recorded statements, and never accept any settlement monies without the advice of a competent personal injury attorney.
Michael Manoussos & Co PLLC are "Serious Lawyers for Serious Money" representing accident victims, workers and consumers in all of New York City, Long Island and Metro-New York.  Call for a free and confidential consultation, 718-454-8888.
Email Us For Your Free Case Evaluation