New York Snow and Ice Accident Lawyer
New York City and New York State are no stranger to harsh winters and deadly snowstorms. New Yorkers can attest to the crippling effects of harsh winters.  Residents and commuters of New York not only have to deal with poor road conditions during the winter months, but as pedestrians we walk practically everywhere. Consequently, it is imperative that all walkways, sidewalks, and parking lots are reasonably clean and clear of snow and ice to ensure our safety. Unfortunately, property, commercial and business owners and others who hold responsibility can be negligent and irresponsible, resulting in slip-and falls of innocent victims. If you have been injured in an accident, contact the MM Law Firm and speak to a queens snow accident lawyer or ice accident lawyer now.
Common Causes For Snow & Ice Accidents in NYC
Property owners in New York City are legally required to ensure that their property is properly maintained and that all snow and ice is reasonably cleared from walkways, sidewalks, and parking lots in a reasonable time.  It is the property owner's responsibility to remove any potential safety hazards. Common causes include, but are not limited to: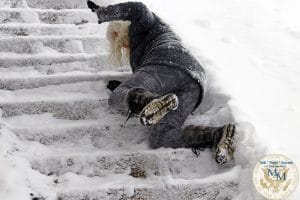 An unnatural buildup of ice or snow on the property, including the continuous melting and refreezing of snow day after day
Lack of or inadequate snow and ice removal
Lack of proper and routine snow and ice maintenance of property
Lack of salting or sanding the ice and snow areas
Lack of shoveling proper passageways for pedestrian access
If you have been injured in a snow accident or ice accident call the MM Law Firm and speak to a snow accident lawyer or ice accident lawyer today.
What is Reasonable?
Property owners are given a certain amount of time to remove snow and ice from their property.  In New York City, property owners have a four hour grace period after the end of a storm to take steps to remove/salt the snow/ice.  Also, property owners are exempt from undertaking snow/ice removal/salting activities from 9 pm to 7 am.  So, if a storm ends at 10 pm, the property owner is not obligated to undertake removal/salting activities until 7 am.  For example, if an accident on an icy sidewalk formed and took place in the middle of a snowstorm, the property owner may not be held liable because they are not expected to have their property maintained during a storm.  Conversely, if say a couple of days after snow fall, the property owner (or its agents) have failed to take proper and reasonable measures to eliminate and ice hazard, there will be liability.  Weather reports are often referred to document the weather conditions at the time of accident.  It is important with snow and ice cases, given their transient nature, that the site is documented promptly.  In today's times of smart phones, photographs can easily and readily be taken to capture the condition as it existed.
Email Us For Your Free Case Evaluation