What is A Bifurcated Trial?
In a personal injury case, depending in which county your case is brought in New York State, your action may have to be tried in two trials.  That is called a bifurcated trial.  Michael Manoussos & Co PLLC, a New York City personal injury law firm understands the ramifications of bifurcated trials and have the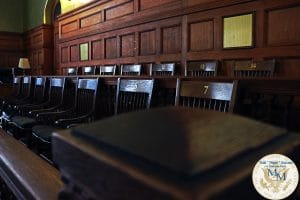 experience to maximize your recovery.
In a bifurcated trial, the trial is broken up into two trials.  That is, the first trial is the liability phase, where only the issue of fault is tried and determined and the jury decides whether or not the defendant is liable and should be responsible for the happening of the accident or incident.  There is no mention about damages or injuries in this first phase and jury does not hear about the injuries or damages sustained and incurred by plaintiff.  If the jury finds the defendant responsible to any extent or degree, the trial continues to the second phase.
It is during the damages phase that damages and injuries are presented and where both sides present medical and other evidence and witnesses to help prove the value of the injuries and damages. This generally includes evidence reflecting the injuries and the consequences of the injuries upon the plaintiff  and the pain and suffering the plaintiff has and will sustain (past, present and future).  Additionally medical expenses, lost earnings and the like are presented as special damages. The jury weighs all the evidence supporting the damages and awards monetary compensation to the plaintiff.
Bifurcated trials common throughout the New York metropolitan.  The Second judicial Department uses bifurcated trials. This department includes Nassau County, Suffolk County, Putnam County, Kings County (Brooklyn), Queens County, Rockland County, Richmond County (Staten Island), Orange County, Westchester County, and Duchess County. In Kings County, if the City of New York is a defendant, the trial is unified.  In a unified trial all matters (liability and damages) are tried and determined in one continuous proceeding where both liability and damages are decided by the jury at the same time.  The First Judicial Department comprising of New York County (Manhattan) and Bronx County use unified trials.
There are trial strategies employed by Michael Manoussos & Co PLLC, a Multi-Million Dollar Advocates Forum Life Member, to leverage the benefits of bifurcated and unified trials.  Michael Manoussos & Co PLLC are "superb" personal injuries attorneys serving all of New York City, Long Island, Albany and the Metro-New York area.  Call 718-454-8888 for a free consultation to preserve and protect your rights.
Email Us For Your Free Case Evaluation